- высокая скорость измерений
- высокая точность измерений
- широкий диапазон измерений начиная от 0,5 пФ и 50 мОм
- емкостной дисплей
- предустановленные прямые тестовые щупы
Артикул товара: ST52SAD
Производитель: Advance Devices, Inc
Страна производителя: Канада
Гарантия 1 год
---
Main Features
Built-in high-precision LCR probe
Convenient one-hand operation
Ideal for Surface Mount Devices
Automated component identification
Automated test range selection
Manual C, R, L, Z and ESR modes
Test signal levels 0.5 and 1.0Vrms
Swiss-made precise test leads
Diode Polarity/Short Testing
Secondary D, Q, ESR parameters
Portable and ergonomic design
Built-in Li-Ion battery
Universal Micro USB charger
High visibility OLED display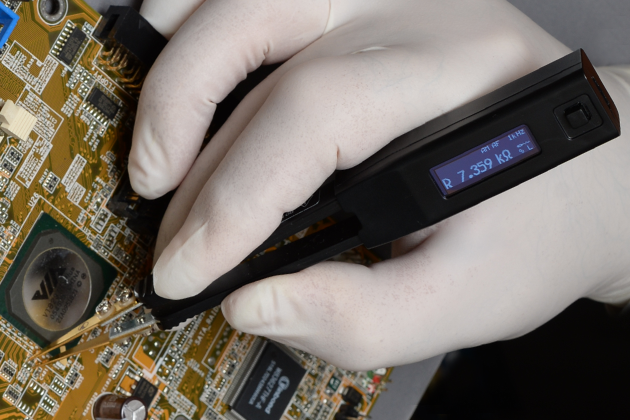 ---
Smart Tweezers™ ST5S — What's New?
Up to 6 times improved measurement precision:

0.2% for C, 0.2% for R, 0.5% for L

Test signal levels 0.5 and 1.0 Vrms:
1.0Vrms allows precision measurements of X5R and similar ceramic capacitors
Low signal level helps in-board testings.
Dedicated ESR and Z modes
Math null function stores measurement offset
Tolerance function with audible indicator for component sorting
Swiss-made test leads
Multi-parameter dashboard display
4-directional navigation control with quick mode selector
Integrated Rechargeable Li-Ion battery
Universal USB/Wall charger is included
---
Smart Tweezers™ is a handheld electronic tool of a new concept.
Its unique design combines a pair of gold-plated SMD tweezers with
ergonomic shielded handles and a precise
full featured LCR impedance meter in a compact, lightweight instrument.
Smart Tweezers™ measures electronic component's capacitance,
resistance and inductance with high speed
and precision by evaluating circuit impedance. Additionally it tests diodes,
measures ESR and impedance Z.
Smart Tweezers™ provides a perfect solution for testing and identification
of Surface Mount Devices (SMD)
as well as for troubleshooting of complex electronic systems.
---
Handy Tool for Tiny SMD Components
Surface mount devices are usually tiny and without wire leads, making it
more difficult to test and identify
SMD than conventional components.
Smart Tweezers™ gives users an easy way to sort and evaluate loose
components and to perform on-board
measurements and debugging.
Precise gold-plated leads made by IDEAL-TEK S.A. of Switzerland
are able to reliably contact SMD components
(as small as 0201 format) or take measurements from the devices
already mounted on a board.
---
Capacitor ESR Meter Mode
Smart Tweezers™ feature a ESR Meter/Tester mode for quality
testing of high value capacitors.
---
Perfect for Conventional Components
Smart Tweezers™ works fine with conventional though-hole
electronic components. The unit helps to verify
values with high speed and precision.
---
Built-in Li-Ion Polymer Rechargeable battery
Smart Tweezers™ comes equipped with a built-in high-capacity Li-Ion
rechargeable battery.
Battery replacements are not required.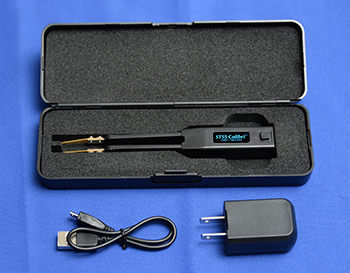 Universal 110-220V power supply and Micro USB charging cord are included.
---
Automatic Component Recognition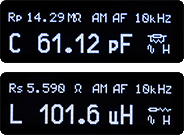 Resistance, capacitance and inductance can be measured with automatic selection
of the test parameters and test range.
Smart Tweezers™ automatically determines type of the component
(resistance, capacitance or inductance), selects proper
range and signal frequency for highest accuracy measurements.
Manual overrides are available as well.
Unit's display clearly indicates the type of the component, measurement
result and test conditions. The primary display shows
the present reading. The secondary display (on top) shows the present
reading of additional parameters or measurement
conditions when the primary display shows some other feature (L, C).
---
Ergonomic Design and Convenient Controls
Default settings can be modified by navigating a set of menus with the Navigation Control.
Meter's display can be easily flipped from the menu for left-handed use.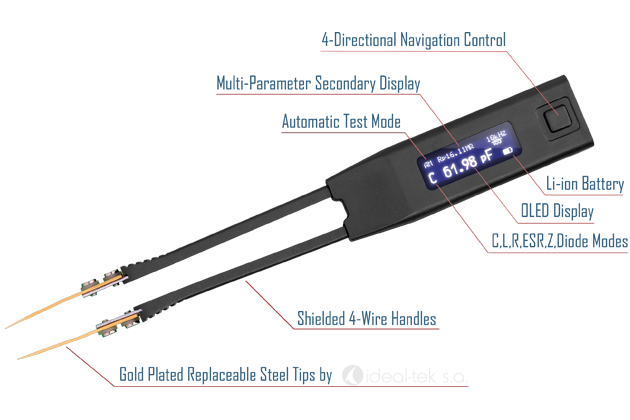 ---
Continuity/Open Test, Diode Polarity Testing, Additional Parameters and Modes
Smart Tweezers™ LCR meter allows to test various component types, including
secondary components
of Dissipation Factor (D), Quality Factor (Q).
The built-in Equivalent Series Resistance (ESR) mode helps you better understand
the inherent resistance — behavior typically found in capacitors across selected frequencies.
In its DIODE mode Smart Tweezers™ tests diode polarity and indicates if it is short.
Smart Tweezers™ has a continuity detector. Variable beeper sounds for resistance
reading below set thresholds.
Additionally, this function helps to locate shorted conductors (e.g. on a PCB).
In manual modes Smart Tweezers™ measures a specific circuit parameter: L, C, R, Z or ESR.
Manual modes also improves component type identification for in-circuit tests.
Variable test signal output from 0.5 to 1.0Vrms allows to improve test precision in different situation e.g.
for in-circuit measurement and loose leaded ceramic capacitors.
Visible and audible tolerance mode allows to perform component sorting.
Math null function allows to store a pre-measured offset and improve measurement precision.
---
Warranty
1 year from the purchase date. Advance replacement option is available.